Arrive a beginner – leave a professional
Individual tuition – you will have the full attention of a professional Tarot reader, all to yourself for 2 whole days! Ask all the questions you have always wanted to know.
2 Day Tarot tuition & Psychic courses in Bradford, West Yorkshire.
Individual one-to-one tuition from a professional Tarot reader with over 30 years' experience will increase your confidence in your readings. 
Complete beginners welcome. This course will increase your confidence.
PICK YOUR OWN DATES – to suit you. (All 7 days available)
Certificate on completion.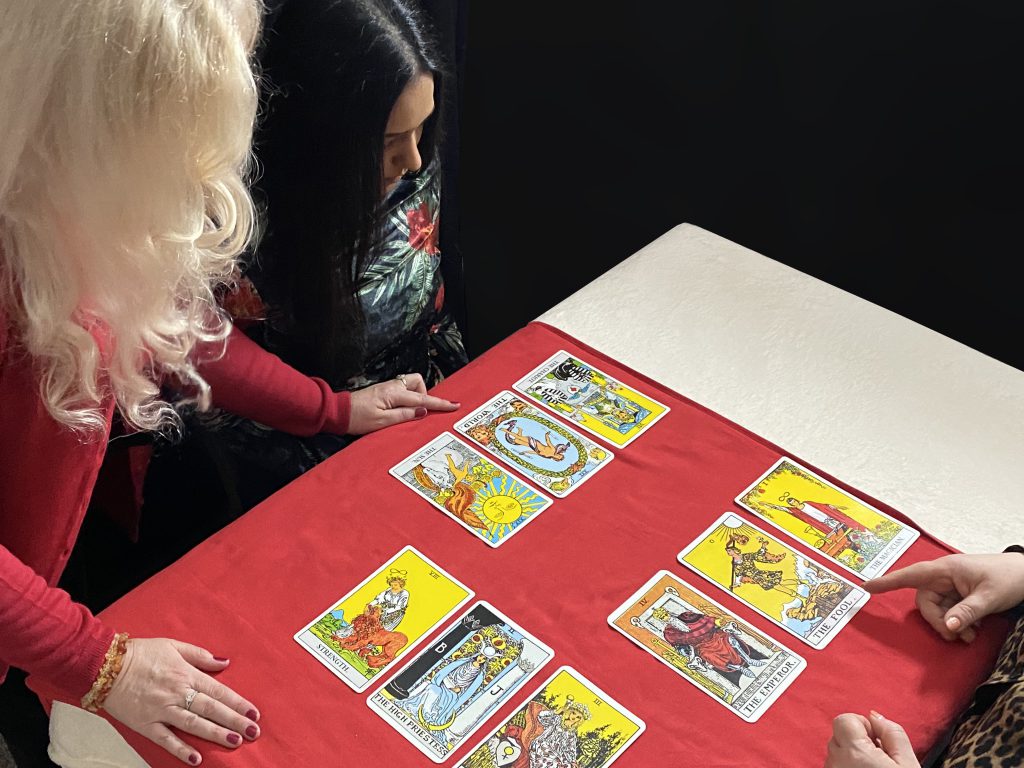 There are 7 tarot lessons covered over the 2 days. (plus 3 modules of advanced information sheets to take home)
Both days: 11am until 4pm. One night's stay and all meals included. (2 lunches, evening meal and a breakfast, snacks, and daytime drinks) 
Your stay can be extended for sightseeing. We can also accommodate you, if you wish to arrive the night before the start of the course.
Beautiful bedroom overlooking Shipley and Saltaire, with all food provided. Double bed and an extra single if required. Also bed settee and sink. WIFI, hairdryer, iron and board, TV with Freeview, CD player with meditation CD's and books provided.
Partners, friends, extra guests can be accommodated. (Adults only)
If you wish to read for clients you can be added to our database of recommended tarot readers when you have completed the courses. We will then send clients to you from our enquires in your local area.
One person for individual lessons:
2-day, 1-night accommodation (mon to Fri): £399.
To include Saturday or Sunday, there will be a supplement of £45 per day.
Arrive the night before or stay longer. Extra night with breakfast £49.
Book for 2 people or 3 for full package of lessons including accommodation and receive generous discounts. For groups, all 7 days available, including weekends with no supplements.
2 people staying in same room: £649. (Save £149!)
3 people only £899.  – Only £299 per person. (Save £298!)
20 % Deposit payable to secure your chosen dates.
Balance payable 10 days before arrival.
20% Deposit payable to reserve your chosen dates.
Balance payable 10 days before arrival.
Request a copy of the residential online brochure; for details of meals, accommodation and courses.
Extend your visit: There are many lovely locations in Yorkshire to visit: Saltaire, Howarth, Hebden bridge, Yeadon Tarn. The local towns of Ilkley and Otley, and Leeds have many shops and attractions.
To reserve your specific dates, telephone or email for availability.
Telephone/text 07398 391901
or telephone only (01274) 588717 (10am to 8pm only please)
TESTIMONIALS From previous students
All the following testimonials are genuine and have been submitted by clients who paid in full for their tarot/psychic courses or lessons. No incentive was offered. Original emails and messages can be viewed on request.  
I really enjoyed this 2-day course, Susan was warm and welcoming and spending time in her company was not only pleasurable but also enlightening.
The room was lovely and Susan made every effort to ensure I was comfortable and had a good stay.
The course was perfect for my abilities and with Susan's encouragement I surprised myself with how much I was able to achieve.
This has been a good start for my future development, and together with Susan's continued positive input I have seen a positive change.
Thank you
Sally from Gloucestershire.
I attended a Residential tarot course with Susan which gave me good understanding of the tarot and I thoroughly enjoyed it.
Jo from Wales
The Tarot and Psychic Courses are Brilliant! Highly recommended, it covers a wide area of developing one's psychic ability, Susan Golden is very supportive with her coaching and conveys the context of the course in an excellent way so everyone can understand and develop their sixth sense. Thank you – 5 stars.
Tom from Manchester
Hi my name is Manuel. I'm from a village on the east side of Lisbon in Portugal. One of my dreams was to be able to understand the tarot cards. I have tried to learn the tarot in Lisbon but I ended up spending money for nothing, until I found Susan Golden in Bradford, England. Susan Golden is the most happy and relaxing person to teach the tarot course. What amazes me is that after the second one to one lesson I was able to understand and do a reading, Susan Golden is a very dedicated person to teach anyone who wants to learn this helpful course and the big surprise is how much you are paying. I can tell you what you pay for the whole course is what I pay only for the major cards when I was in Lisbon. So, to me, if want an excellent tarot course, Susan Golden is definitely the right person to contact. Manuel, Portugal.
I have attended a few courses at Golden Lights Psychic Academy, in Bradford, with Susan Golden and all have been enjoyable and very informative.  The tarot and psychic development courses are fantastic for those wishing to development themselves and gain an insight into the spirit world.
I would highly recommend anyone to attend one of the fabulous courses.
Narda, Bradford.
I was interested in how Susan has the skills to read tarot cards and tune into spirits, I therefore started to attend her course which is tailored to the individual.
I was very nervous attending as I have tried with a different group prior finding Susan. which was not enjoyable and very scary!
Susan reassured me that the experience would not be the same and it was in fact polar opposite, very interesting and light hearted.
Susan has now become a very dear trusted friend.
Rachel from Bradford
I have been interested in the tarot for many years and after finding Susan on the internet I contacted her and began one-to-one lessons with her to help with my learning.  I found Susan to be very knowledgeable about the tarot and she was very patient with me, helping me to understand the cards better and encouraging me to interpret them in my own way. I would recommend Susan to anyone interested in working with the tarot, she has a lovely friendly manner and I really enjoyed the time I spent with her.
Michelle. I am a Counsellor and Life Coach. Bradford. 
I have recently been on one of Susan's Tarot courses. It was easy and fun to learn and Susan is undoubtedly an experienced clairvoyant. Go on girl keep it up!
Mystique
The classes are very informative and brought forward awareness which I never knew I had. Keep up the good work
Andy, West Yorkshire.